I wanted to share some of my Dragon*Con adventures along with my costumes. So I figure I will break this up into sessions. Firstly, I must say Dragon*Con was EPIC this year. I had a great time! Met a lot of very awesome people and did most of the things I wanted to do this year. So on that note I will share my completed Pink/Barbie Dalek Dress first! I stuck to
original concept
as much as possible.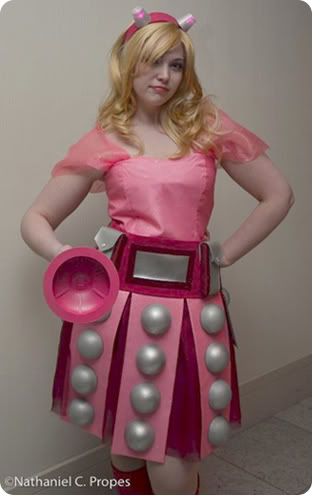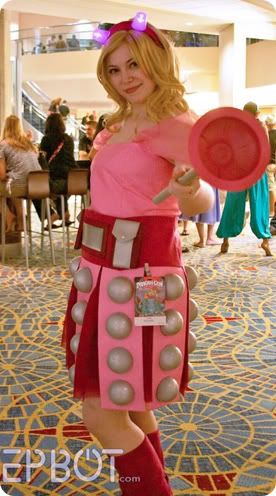 Both these images link back to their respected sources. I'd like to say thanks to Nathaniel C. Propes for his image and Geeks are Sexy.com for featuring me on their site. :D *so happy* This has lead to my costume being featured on other sites like:
The Mary Sue
and
Fashionably Geek.
Also a thanks to Epbot.com for the photo feature. :) My running joke was that (since I'm pink and mostly likely in the Barbie universe) that I would EXFOLIATE! haha...good times. The second time wearing my Dalek I chose to wear it with my pink Haurko wig since I love how comfortable that wig is.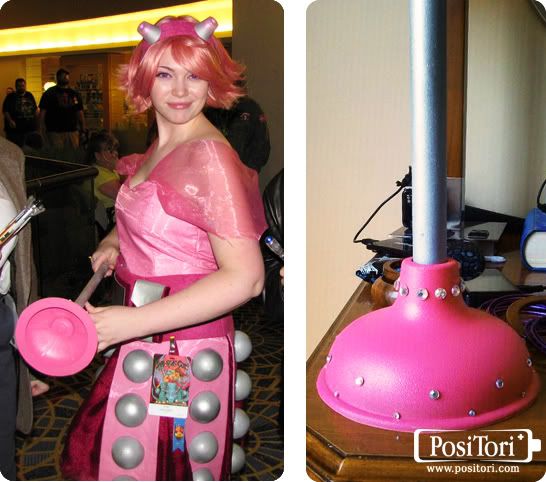 I wanted to showcase my plunger of pretty, pink, bedazzled, doom! I felt the rinestones and the pink paint really brought that prop to life. I had a blast screaming EXFOLIATE at random con-goes and Doctor Who fans alike! While dressed as my obnoxiously pink dalek I met the 7th doctor himself, Mr. Sylvester McCoy!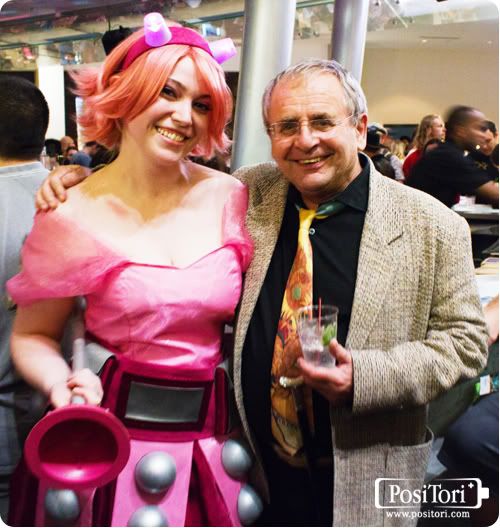 I was sooo excited! I think I was the first cosplayer to notice him at the bar drinking Gin and Tonic with his handlers. :) I watched his Doctor Who panel and I must say he is a pretty funny and witty man. I quite enjoyed it. Read and See more on my costume breakdown and progress on my
Cosplay.com
page. :)
I have so much more to share but I'll save that for Part 2!