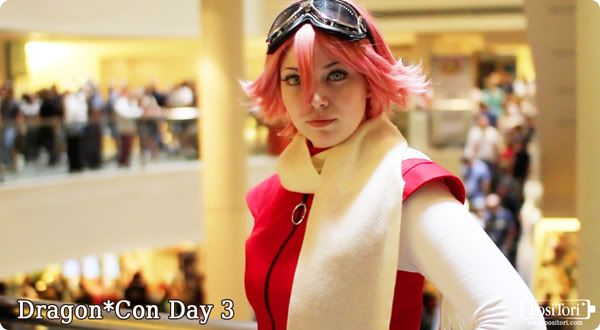 My Sunday of Dragon*Con was probably my favorite day overall. I had so much fun and had a lot going on that day. I started my day off as Haruko from FLCL. I was walking around and met the guys from
Beat Down Boogie
. They made an AMAZING video of Dragon*Con last year and they filmed my costume for their new 2011 video! I was really excited! I hope they use my footage. If your curious what Dragon*Con is like, check out their video below. It's incredibly well done. :)
Next I set off to the Star Wars costume contest. Every year I tried to enter my Jedi Barbie costume and every year it fell at the same time as somewhere else I was committed to be. When lining up I met the owner of
Nocturne Armory
. He was really nice and good company to keep while we waited for the contest to start. While we were waiting he gave me a pair of his handmade lightsaber earrings! (pictured below) I was so surprised! It was extremely nice of him :)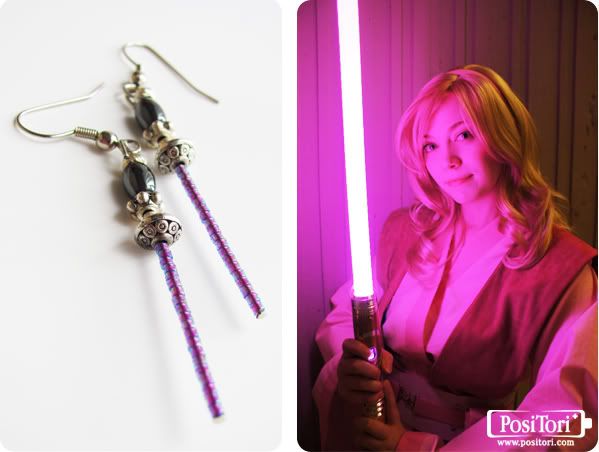 I was entered in the Star Wars Infinity division. Which means things outside of the immediate licensed Star Wars Universe. There was a Princess Leia in my category though that threw us all up for a loop. We had no idea why she was put in infinities. :\ The contest had guest judges! Youtube stars Chad Vader, the voice of Ahsoka from Clone Wars Ashley Eckstein, and Chewbacca himself Peter Mayhew. It was a good show and I had fun participating. Well.....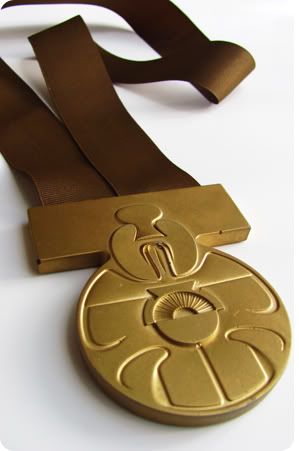 I placed! :D I was awarded Staff Favorite. I was sooo thrilled! I was awarded a fancy metal (haha..It's the ceremony medal from the end of A New Hope!) and a certificate. See all the winners from all the categories
here
. The staff that ran the event were so friendly and nice. It was a very good atmosphere. And they made the medals themselves! Hats off to the crew who ran this event, it was fantastic!
I can't believe how many people remember Jedi Barbie from the past few years I've bringing this persona. I met my biggest fan! I can't believe it either, but I have fans. It was a good feeling. That my costume can excite and brighten up someone's spirit in such a way. :)
If your curious about my saber, it's made by Alan over at
Vader's Vault
. He does exceptional work! I really love my saber! And check out how bright it is!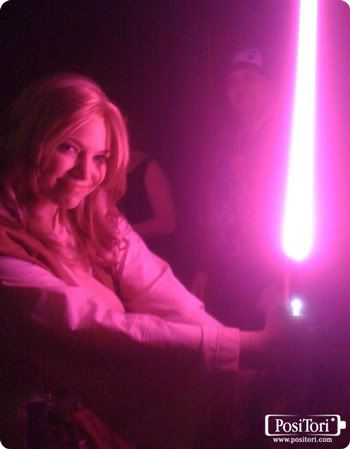 That was taken with an iPhone. It really turns red sabers a pale yellow. It's amazing! :D That's the power of PINK! Muahahaha! Read a full break down of my costume over on my cosplay.com
Jedi Barbie
page.
Well, later that night I met Chad Vader! He found me in my Dalek dress cause like me, he's a bigger Doctor Who fan than a Star Wars fan. I talked to him for a while and he is a really awesome guy. He even featured me in his 2011 video twice! Oh yeah!!
I had a great year at Dragon*Con. I met so many amazing people and had the best time! I can't wait to go next year. It really is my favorite time of year. And there's no con quite like Dragon*con. :D
(All borrowed images link back to their respected owners/sites.)